Turns out I could churn out a new Albumism post in little over two months. Well, well. I've been piggybacking on The Boyfriend's Spotify Premium subscription and I managed to get myself into new genres and listen to a motley of artists I never imagined I would like.
Charge!
---
Albumism 2016, part 2:
The One Where Ashley's Mixtape Goes Haywire
---
The White Stripes
Icky Thump
I first heard Icky Thump, the track that bears the album title, from the Justice League trailer released during this year's San Diego Comic Convention. Catchy opening, catchy riff, and catchy voice; imagine my surprise (and, if I'll be truthful, horror and utter shame) at learning that this was Jack White I was listening to, and that the drummer was his wife, and that I never knew until now.
Icky Thump is a riot of guitar/keyboard solos and a noticeable motif I can't quite put my finger on. All I know is that this album contains songs I would know are from TWS in as little as two notes. Tracks like Conquest and You Don't Know What Love Is were anthemic, but no track stood out quite as much as St. Andrew (This Battle is in the Air) and its bagpipes. I'm Slowly Turning Into You is a personal favourite, mostly because of Jack's vocals and the fact that I listened to them performing it live and the guitars are ripping into hell and beyond when I listen on headphones. But A Martyr for My Love for You is a close runner-up, with Bone Broke trailing after it.
The only other song I'd ever listened to from The White Stripes was Seven Nation Army, and boy do I regret not listening to them earlier. Listening to the whole album was an experience that made me think of deserts, and cacti, and matadors, and quiet, rainy evenings with strong liquor and an amplifier turned way up.
This album is a mosh pit of blues and rock, garish guitars and unpolished drums, and noise that isn't quite noise but certainly twangs your ears more than once every ten seconds. I liked it, and I like that it surprised me.
* * *
James Vincent McMorrow
Post Tropical
So we go from The White Stripes to James Vincent McMorrow, who shot straight to the top of the charts with his cover of Chris Isaak's Wicked Game, featured on the last Game of Thrones season six trailer; the haunting reverb of his 'I wanna fall in love' still gives me gooseflesh to this day, and coupled with GoT's finale, it certainly creates a very interesting premise for whatever thoughts anyone had going during that throne room scene…
But Post Tropical is not Wicked Game, much as I had hoped all his songs would sound like it. I am not overly excited about this album (it's really hard to be excited about what is probably one of the most chill voices and arrangements ever), but I am very pleased. James is like the musical love child of Damien Rice and Bon Iver's Justin Vernon. His lyrics, introspective and lovelorn and so self-effacing, and his voice — good lord his voice — all make for an album that makes you want to curl up in a sofa beside a fireplace, with a cup of hot cocoa on hand, never mind that you live in the Philippines where it's more or less 30°C outside, and you don't actually have a fireplace.
The album opens with Cavalier, whose music video is as cold and feeling as the song itself. To my emotional self, this track was as great an opener as any, with its ridiculous punch-to-the-gut lines ("Speak until the dust / settles in the same specific place / Light refused to go / Drink it from a cast and iron plate", "Half waist and high raised arms / kicking at the slightest form / I remember my first love") and James's falsettos. This kicker is followed by The Lakes, mystical and misleading with its harp-y opening notes and the subtle beats and the harmonies… "Settled words were gone again were called upon," he sings. Certainly.
To a listener who looks for outstanding musicality and a variety of instruments in all of an album's tracks, this LP is probably going to be incredibly boring and sleepy, but Post Tropical's magic happens in the quiet hours of twilight, or in the middle of a sleepless, troubled night. It's an album made to cure soul hurt, and not one I'd indulge in for hours at a time, but it tells a story, and that's something that matters a lot to me.
(Alas, I made the huge, irreparable mistake of listening to this album while reading Vincenz Serrano's When a Map is Folded Cities Come Together, When Clothes are Unpacked Cities Fall Apart, and let's just say, for conciseness, that I found myself falling in love. With whom or what, who knows.)
* * *
Hozier
Self-titled
From The White Stripes to James Vincent McMorrow to Hozier. Boy, is this a ride.
This one is long overdue, though. I have been listening to his album since it came out two years ago but I've only started hearing it properly now. Of course, Take Me to Church, which is arguably his most famous song, is out of the picture here. I am not dismissing the sheer wonders of the song; after all, it offers a lot of insights about Irish Catholics and the way religion has warped people's perspective on sex. In fact, Take Me to Church is quite the rebellious track, singing of defiance and revelling in the mysteries of sex and worshipping the lover; in an era of sex-centric music, it's a breath of fresh air. The problem is, I've grown tired of hearing it played over and over, its context completely ignored in favour of the more apparent sexual message (seriously, it's always about sex, isn't it?), and I even managed a modicum of dislike for it because of Demi Lovato's cover, which was mediocre at best. Too much shrieking and unnecessary belting out of notes. Gah.
Take Me to Church isn't even what I consider to be the best song of this album. That honour goes to Cherry Wine, a bittersweet melody telling the story of domestic abuse. From how bare it's been sung and recorded, to its honest lyrics of denial and justifications ("The way she tells me I'm hers and she is mine / Open hand or closed fist would be fine / The blood is rare and sweet as cherry wine", "Her fight and fury is fiery / oh, but she loves like sleep to the freezing")
But it's not all that sad. Hozier seems to take after a lot of jazz and blues artists (I am not familiar with his influences, except maybe for Nina Simone, of whom I hear very little in his music), but he's got some rock and roll in him, too. Angel of Small Death & the Codeine Scene is class, and in the album it's back to back with Jackie and Wilson and From Eden, which are just about the happiest songs in the whole compilation.  Someone New is fairly upbeat, yes, but it made me tear up the first time I heard it ("Would things be easier if there was a right way? / Honey, there is no right way", oh the truth of this line), so in my books it doesn't count as a happy song.
The album honestly feels like a novel, which isn't surprising if we take into account Hozier's intimate relationship with literature (Irish authors like Wilde, Yeats, and Seamus Heaney's poetry about the Scottish bog bodies — something I never thought I'd read — the latter evident in Like Real People Do). The lyricism is intricate and paints pictures with his bone-chilling vocals that sometimes makes me feel like I hit my head somewhere real bad, or sends tremors down my spine, or just makes me sit down in a corner and ruminate on life, the universe, and my eternal inability to not cry and feel too much. Oh, and love, too, I guess.
The album has its moments, but it feels like it's very much in love with the right person at the wrong time. It was written for love, and the love of all things holy and unholy, and it's hard not to love an album so honest and so real and so poetic.
* * *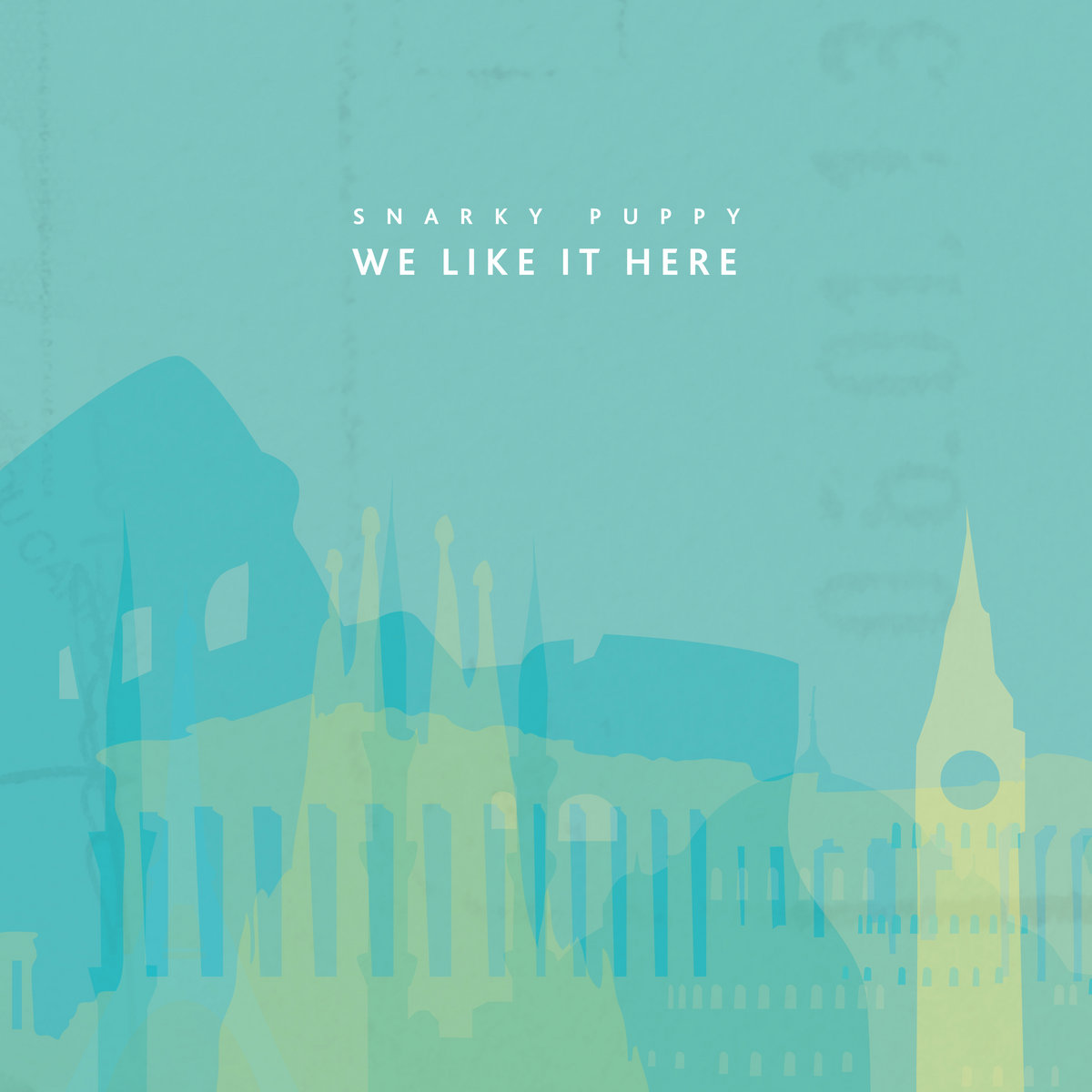 Snarky Puppy
We Like It Here
Last for this albumism is an album of pure musical joy so unlike the other three before it. I've had my eye on them for a while now, since a good friend's introduction of them months ago, and listening to We Like It Here affirmed the good impressions I had when I first heard Lingus. 
Snarky Puppy is an instrumental ensemble who record things mostly for fun. Plenty of their tracks are improvisations, which is already amazing, but what's most impressive are musicians themselves. Each track on the album features a solo (for example, Lingus features a synth solo that sent my eyes rolling back with how good it was). All tracks are recorded live, the ensemble features a brass group, and they have this one drummer, Larnell Lewis, who I now call the Best Drummer Ever. (Seriously, he has the tightest drum skills I have ever heard.)
There is variety in each track, which so refreshing, especially in our present-day four-chord era. And all those time signatures you learned in Music class will finally have concrete examples, and often from just one song. It's hard to put into words the amazement I felt when I hear their tracks go from 44 to 24 to 34 to 68 to 58 and hear it all come together in tracks that offer nothing less than sheer pleasure. It's a barrage of sounds that just gel together to form one of the most artistic albums I have ever heard.
And watching them live! They offer a hundred or so seats to some very lucky individuals who get to listen to them play in the same studio! The YouTube channel has plenty of recordings of their recording sessions and frankly if it doesn't make you smile watching them play, you're probably not getting it. This live session of What About Me?, for example, got me grinning until my cheeks hurt. They look so fun and crazy good at what they're doing, and I'd pay good money (which I don't have yet but just you wait) to see them in person.
Of all these albums, We Like It Here is the best and most deserving of anyone's time.
---
I'd recommend listening to them all in succession, in the order I presented them, for the ultimate musical whiplash, except it could ruin one's experience of their individual styles and signatures… But really. Two months of a whirlwind playlist doesn't sound so bad now that I stop to think about it. Actually really fun.